There are hundreds of members in the club right now!
💬 "I love it. I have already in this first month found tons of resources to share out with my staff and help them incorporate technology into the classroom." - Kelly Chaney, Fourth Grade Teacher

💬 "I truly appreciate the work and resources you are providing! It is tangible and clearly stated. Thank you for what you are providing to educators like myself who are passionate about learning!" - Tina Schaefer, Eighth Grade ELA Teacher and Instructional Coach
💬 "Just had to let you know…I love your Easy EdTech Club! Your lessons are so complete in the way they are set up. There is so much information in each lesson and the way the lessons are set up make it extremely easy to use and put into effect no matter what area you teach and/or what level you teach. I also appreciate that you give videos to listen to, a PDF Guide to follow along with and all the bonus items." - Kim Dhority, Dean of Instructional Services
💬 "I love the format! I always learn something new or a new way to use a tool." - Chris Lucci, Fifth Grade Teacher
💬 "You are very generous to share so much of your knowledge. It has been invaluable." - Jennifer Tippett, Instructional Technology Specialist
First chance to join in 2021 + 6 FREE months!
I've opened the doors to new monthly members for the first time this year... and you'll instantly get access to SIX months of content.
This is the first time I've included SIX months of content for FREE to new members.
You'll get instant access to these SIX masterclass months -- with all of their corresponding downloads!
An $84 value = for free when you sign up >>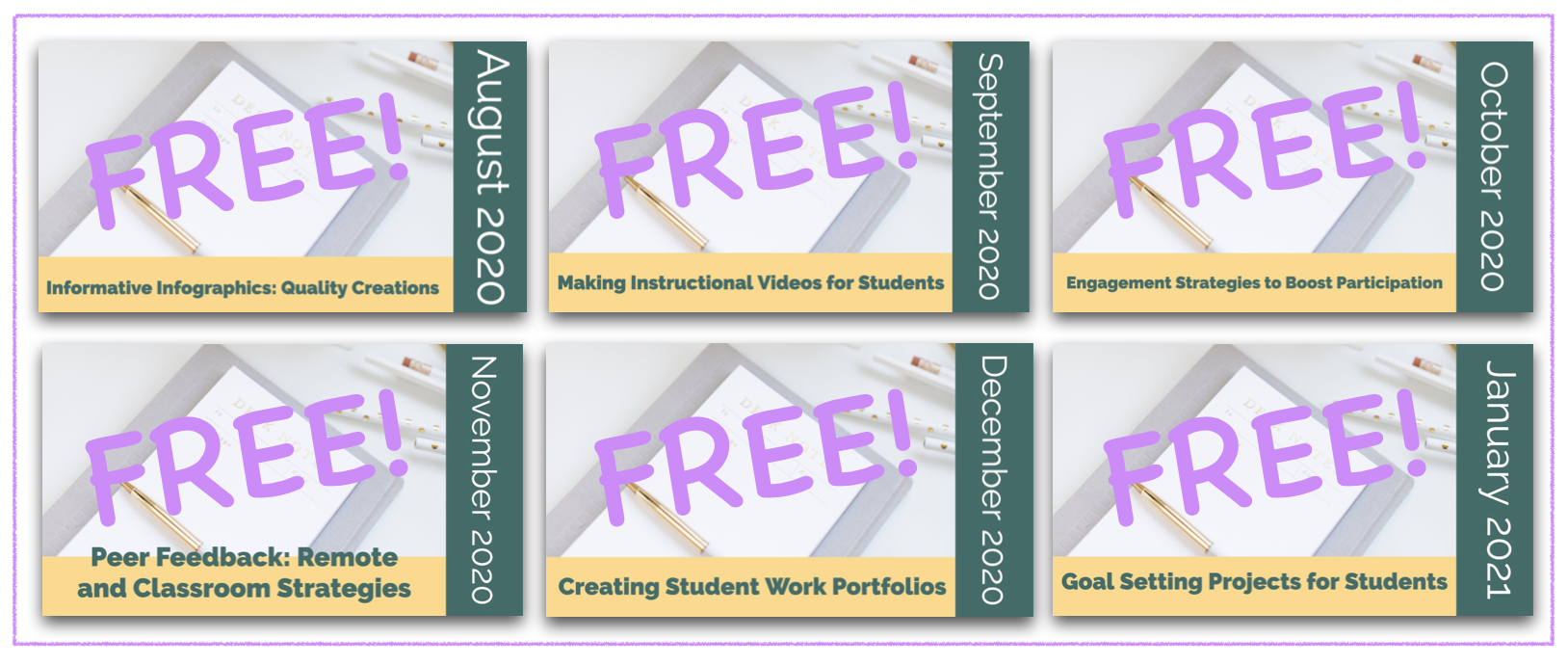 August 2020 - Informative Infographics: Quality Creations
September 2020 - Making Instructional Videos for Students
October 2020 - Engagement Strategies to Boost Participation
November 2020 - Peer Feedback: Remote and Classroom Strategies
December 2020 - Creating Student Work Portfolios
January 2021 - Goal Setting Projects for Students
February 2021... goes live on 2/1
New content is added each month on the first of the month!