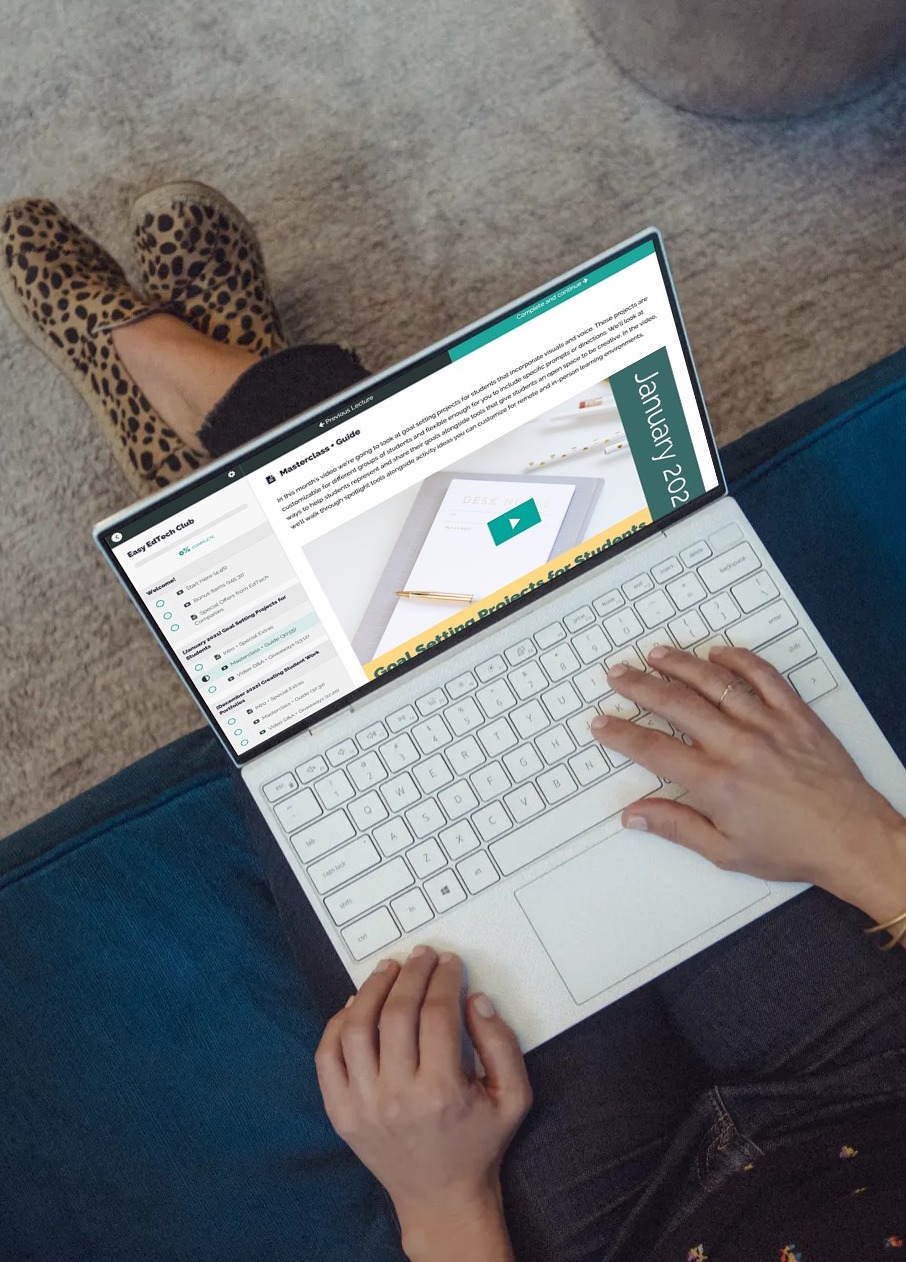 For tech-friendly teachers and coaches...
...who want quick ideas to save time and use digital tools with intention.


🌟 Are you trying to save time this year?
🌟 Do you want to focus on quality over quantity?
🌟 Have you been looking for activities to use in classroom settings, remote learning, or hybrid learning models?
The Easy EdTech Club is a monthly membership designed to help educators (like you!) decrease overwhelm and increase focus, so you can tune out the noise and dive into one EdTech topic each month!
No deadlines. Just resources.
I've led book clubs and courses for hundreds of educators and there are so many benefits to these formats…
...but one thing I've learned is that missed deadlines, long to-do lists, live events in the wrong timezone, and requiring weekly participation is tough on everyone.
You are busy and I want to make using new EdTech tools and strategies as easy as possible for you this school year.
This membership site gives you access to new ideas, strategies, and spotlight tools each month...
...to make EdTech easier this school year!
Join the hundreds of members in the club!
💬 "I love it. I have already in this first month found tons of resources to share out with my staff and help them incorporate technology into the classroom." 
- Kelly Chaney, Fourth Grade Teacher
💬 "I truly appreciate the work and resources you are providing! It is tangible and clearly stated. Thank you for what you are providing to educators like myself who are passionate about learning!" 
- Tina Schaefer, Eighth Grade ELA Teacher and Instructional Coach
💬 "Just had to let you know…I love your Easy EdTech Club! Your lessons are so complete in the way they are set up. There is so much information in each lesson and the way the lessons are set up make it extremely easy to use and put into effect no matter what area you teach and/or what level you teach. I also appreciate that you give videos to listen to, a PDF Guide to follow along with and all the bonus items." 
- Kim Dhority, Dean of Instructional Services
💬 "I love the format! I always learn something new or a new way to use a tool." 
- Chris Lucci, Fifth Grade Teacher
💬 "You are very generous to share so much of your knowledge. It has been invaluable." 
- Jennifer Tippett, Instructional Technology Specialist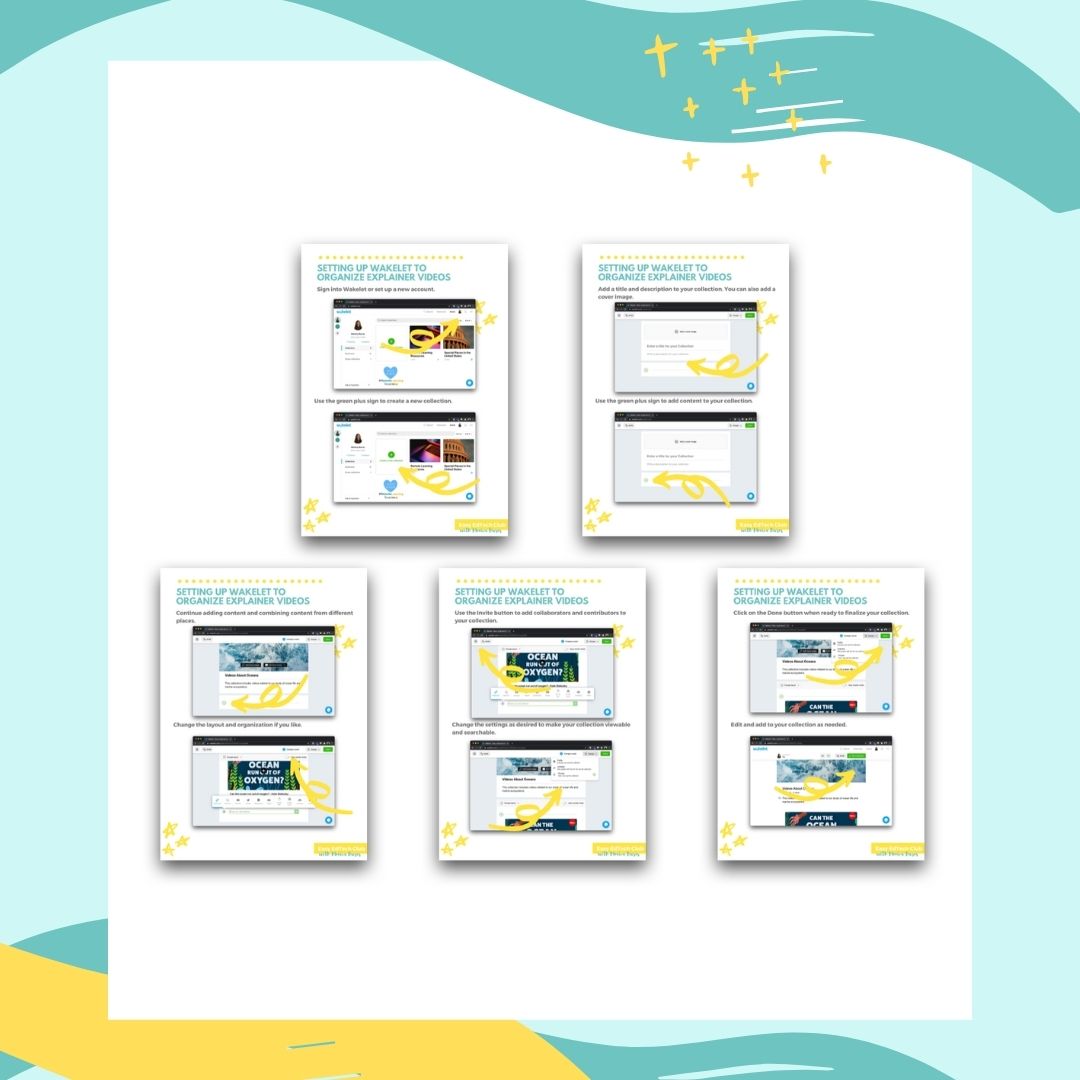 Surprise Items Each Month
Like these step-by-step screenshot guides for spotlight tools!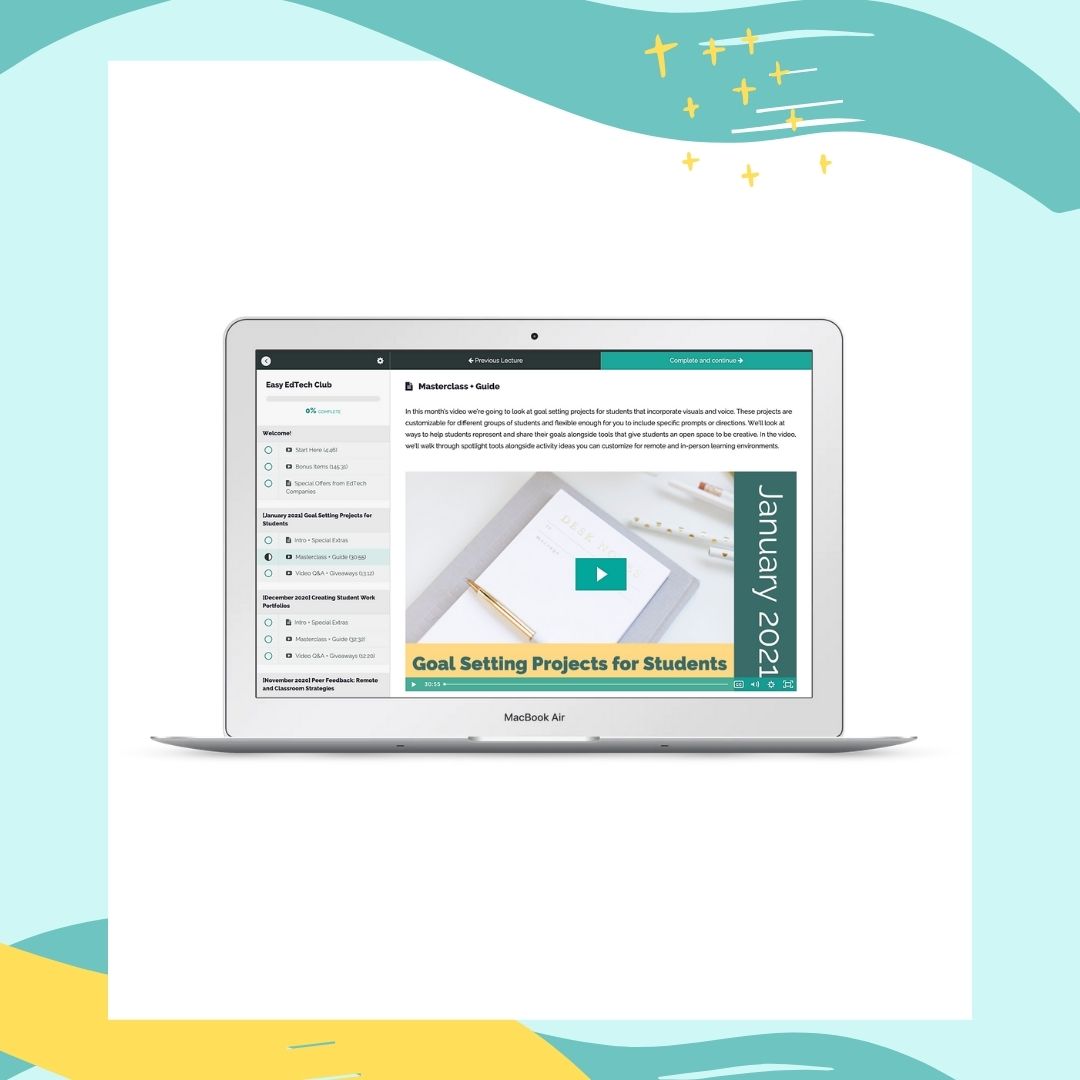 Monthly Masterclass
30-minute masterclass videos, and a Video Q&A each month, too!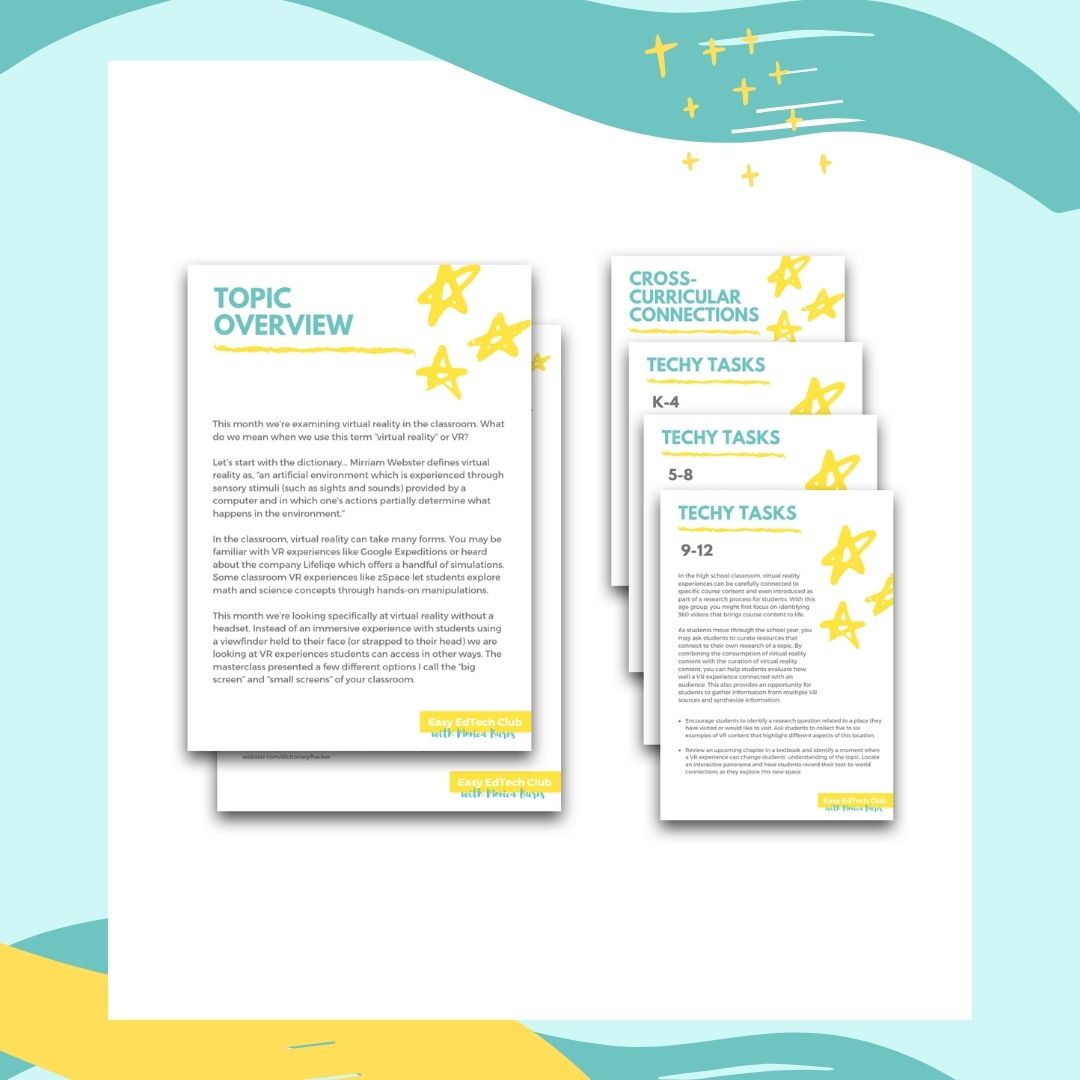 EdTech Guide
PDF guide each month with techy-tasks, cross-curricular ideas, and masterclass transcript!
Each month, members get access to:
Masterclass
30 minute video where I break down a big EdTech idea and share ways to make it work in K-12 classrooms; includes captions, an audio version to download
EdTech Guide
a PDF document with an overview of the topic, full transcript of the masterclass, techy tasks for grade level bands (K-4, 5-8, 9-12), and cross-curricular connections
Video Q&A
a recorded Q&A session where I answer questions on the topic that club members submit each month; the recordings are available on the 25th of each month and include captions and a full transcript… there is no live event to attend, you can submit all questions in advance and watch the video anytime
Surprise Bonus Items
planning pages, promo codes, first looks, reading recommendations, computer wallpaper, tech-friendly quotes to tweet out, and more surprises that will vary each month!
Instant Access to 14 Masterclasses
and new content each month!
This is the first time I've included 14 months of content for FREE to new members.
As soon as you sign up, you'll get instant access to these 14 masterclasses -- with all of their corresponding downloads!
A $100+ value = for free when you sign up >>
Informative Infographics: Quality Creations

Making Instructional Videos for Students

Engagement Strategies to Increase Participation

Peer Feedback: Remote and Classroom Strategies

Creating Student Work Portfolios

Goal Setting Projects for Students

Engaging Students with Explainer Videos

Using Tech-Friendly Brain Breaks

Creating Customizable Graphic Organizers

Data Collection with Digital Checklists

Sharing Student Projects with an Audience

Build Community with All About Me Projects

AND MORE!
Membership Pricing
$14.97 per month (cancel anytime, new Masterclass and Guide releases on the 1st of every month; price will never go up)
The day you purchase is your anniversary date and the day you'll be charged each month
Sign up today and get instant access to 14 masterclasses! (a $100+ value!)
You'll automatically get the bonus items when you join!
Who is the Easy EdTech Club for (and not for)?
This membership is for educators who are passionate about EdTech but want to make the process of integrating technology into the classroom easier.
It is perfect for instructional coaches and media specialists who make recommendations to classroom teachers, and for enthusiastic classroom teachers who want to use EdTech strategically with their students.
Administrators who want to find new ideas for their teachers will also find actionable information and ideas to share with staff members.
The membership is designed for educators (at all levels) looking to design activities and lessons for students.
The Easy EdTech Club is for educators who are excited about EdTech and who believe that education technology can energize and elevate teaching and learning!
You should be comfortable using a laptop or computer (even if you're not a whiz), and be ready to problem solve and try something new!
If you are teaching only one subject area and have a hard time imagining that EdTech will work in your classroom, or you are teaching Kindergarten and struggle with finding primary-only EdTech, this membership might not be for you.
I've designed each month to focus on big ideas with specific, actionable examples that can apply in many situations.
If you are typically looking for resources that are super specific or have trouble customizing ideas for your students, this might not be for you.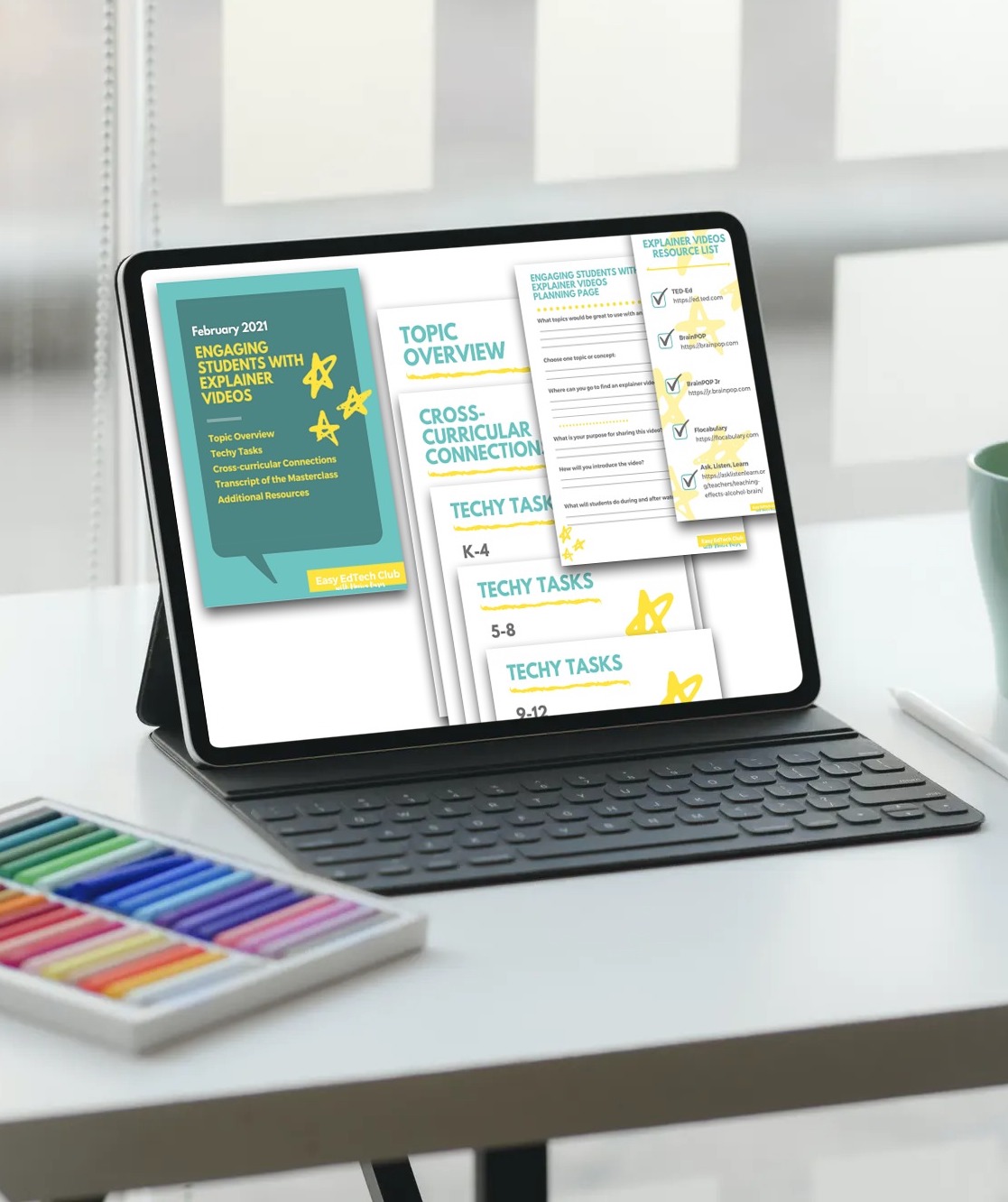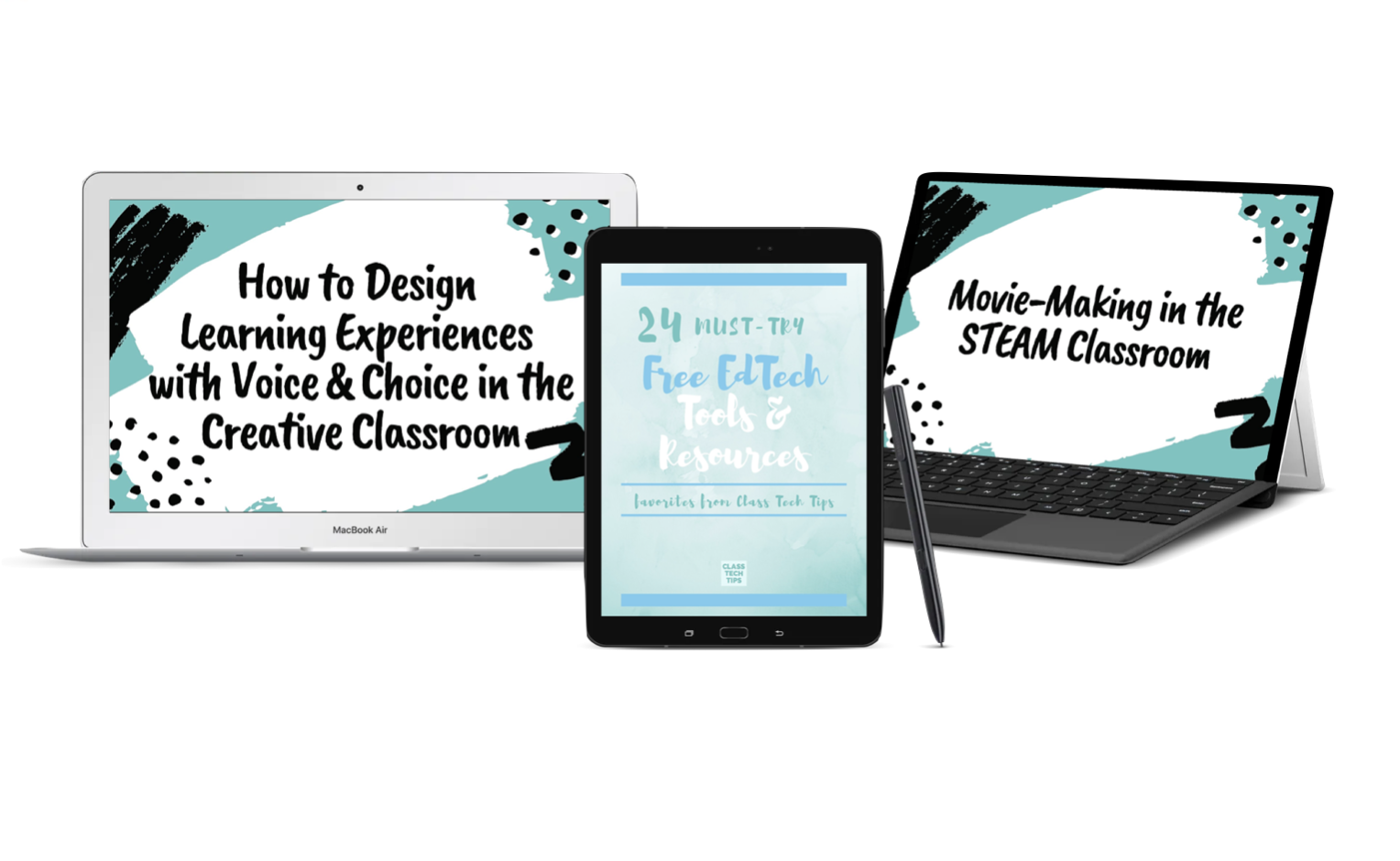 2021 Bonus Items
24 Must-Try Free EdTech Tools (ebook — $12 value)
Movie-Making in the STEAM Classroom (video replay — $9 value)
How to Design Learning Experiences with Voice & Choice in the Creative Classroom (video replay — $9 value)
3 Ways to Make EdTech Easier & 3 Favorite EdTech Tools (video replay — $9 value)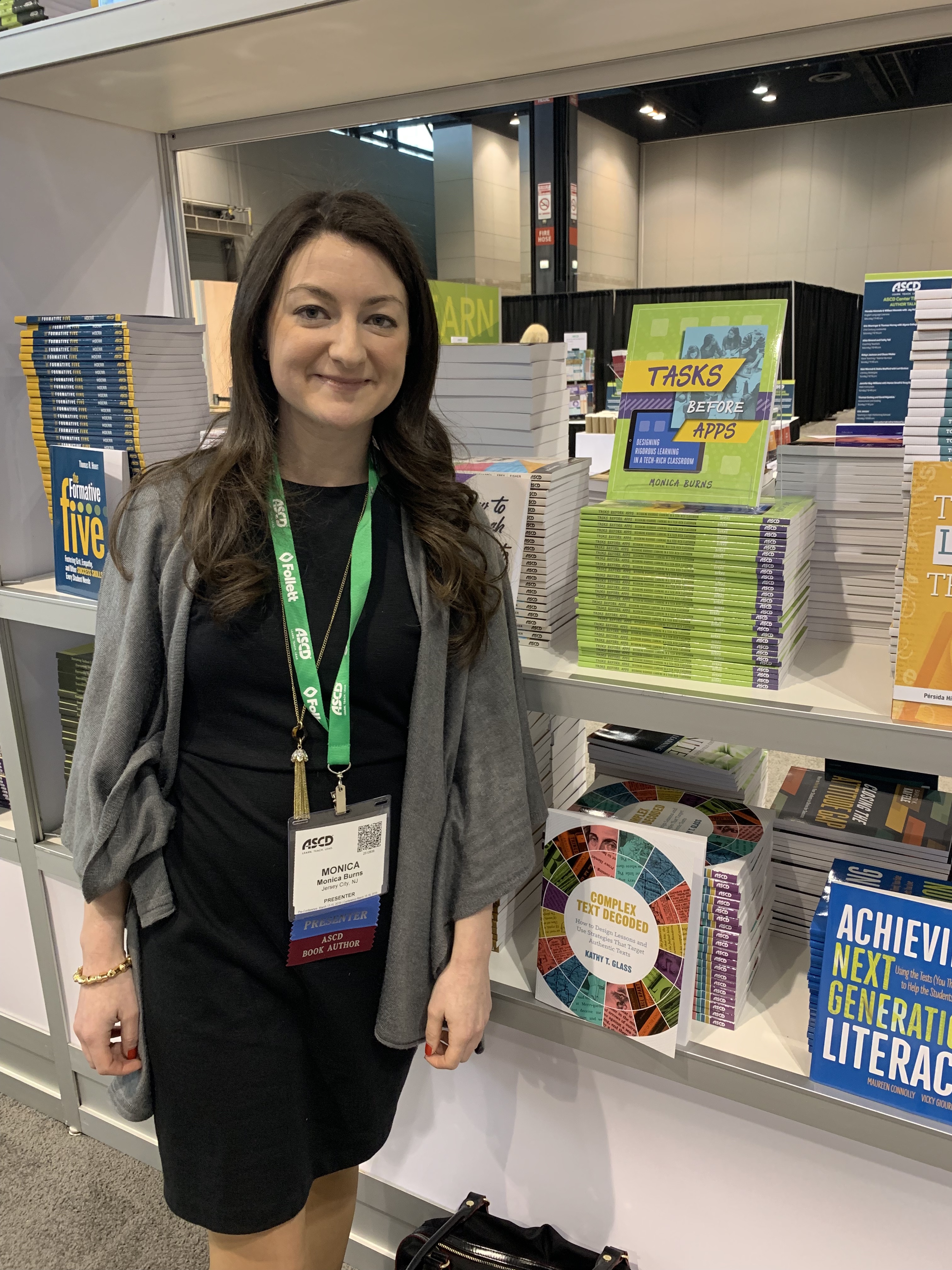 Hi there!
My name is Monica Burns, I'm a former classroom teacher and now I spend my time sharing tips, strategies and activity ideas to make EdTech integration easier in your classroom.
You may be familiar with my books, like Tasks Before Apps or my blog ClassTechTips.com.
Whether we've met at a conference or special event, you've followed along with my EdTech tips for years, or simply joining in for the first time today, I'm so glad you're here!
I created the Easy EdTech Club for you -- to give you resources and support so you can focus on one big idea each month.
Since I started creating resources for educators, one thing has always stayed the same:
My commitment to helping make EdTech easier!
That's why I created the Easy EdTech Club for educators like YOU, who are ready to simplify the way they use technology in their classroom or how they support their fellow educators using technology at their school.
There are hundreds of educators in the Easy EdTech Club!
Hope to see you there!
No homework or participation required
As long as you're a member of the Easy EdTech Club you'll have access to the content released each month and you can dive in anytime you wish.
You can cancel at any time. If you decide that membership isn't for you, you can download the content you paid for so you can access it even if you decide to cancel.
There is no homework and no participation required.
Make your own schedule!
I'm simply giving you resources (Masterclass and Guide) and support (Video Q&A) that you can watch and read anytime!
Not another Facebook group
I love Facebook groups and Twitter chats but I know that the noise can be a lot to sort through.
That's why I've designed this membership so it's not another Facebook group.
Instead, it's giving you access to simple, straight forward information you can put into action in a variety of learning environments.